The Bodhisattva of Compassion
When he meditated deeply
Saw the emptiness of all five skandhas
And sundered the bonds that caused him suffering.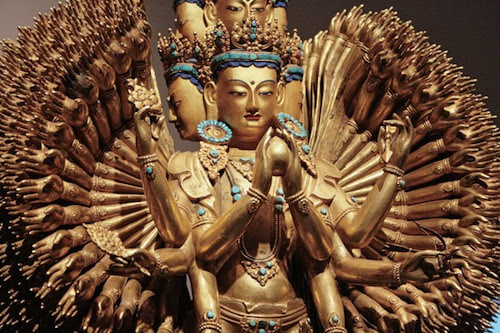 So what are these skandhas and how can we sunder the bonds that cause us suffering? The Heart Sutra is so called because it constitutes the heart of the Buddha's Teaching as communicated to us in the Prajnaparamita, the Perfection of Wisdom sutras. As Sangharakshita has said "If we really know the Heart Sutra, we know – in a sense – everything."
This is our new theme for Sangha Nights in April… and maybe beyond… as we try to deepen our understanding of this ancient text through the traditional three levels of wisdom, listening, reflecting and meditating upon the heart of the teachings.
Join us on Tuesday nights at 96 Halifax St in the city, meditation begins promptly at 6.45pm.